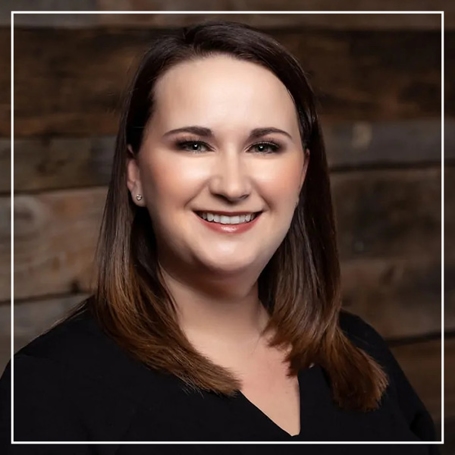 Amanda Lynn Director of Administration
Joined Collins Family & Elder Law Group

2010
Bio
Amanda works closely with the management team to oversee the firm's day-to-day operations. Amanda is responsible for managing multiple departments, including human resources and billing. She also works closely with the Paralegal Coordinator to ensure the firm's continued success. Amanda is based primarily out of the Monroe office.
Education & Experience
Amanda Lynn has lived in Union County, North Carolina, for most of her life and enjoys calling Union County home. Amanda has a Bachelor of Science degree in Business Administration from Gardner-Webb University.
Amanda has spent the majority of her career at Collins Family & Elder Law Group. After she graduated college, Amanda joined the firm as the head paralegal. In 2015, she was promoted to Firm Manager, and most recently, she was promoted to Director of Administration.
Personal & Professional Activities
Amanda enjoys spending time with her husband and their four children. They spend several weekends a year traveling with their camper, family, and friends.
Client Testimonials
See What Our Clients Say About Us
"Willing to go the extra mile to help their clients."

Collins Family Law group is a wonderful group of women willing to go the extra mile to help their clients. If you're going through a divorce situation, I would highly recommend you contact them.

- Laura S.

"Ms. Collins is a superb attorney that I would highly recommend."

Ms. Collins is a superb attorney that I would highly recommend. She cares about her clients, is very knowledgeable, has a professional, kind demeanor, and always gives 110%.

- Stephanie E.

"Collins Family Law Group was very helpful through a difficult time."

Candace walked me through the process of divorce and child custody advising me on things that I had not considered. She helped me to protect my children and their best interests.

- Gretchen

"Ms. Collins was very helpful during my custody hearing. It was not about the money for her; instead, it was about doing what was right for my child and me."

She was fair, open, and honest. She informed me of my rights as well as the rights of my ex-husband. She was not out for blood, but just out for what my child and I were entitled to.

- Vanetta J.