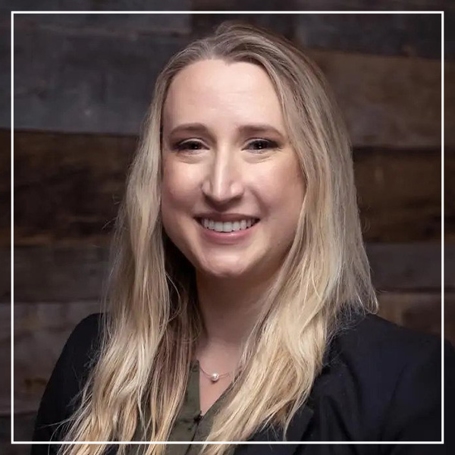 Melissa Hansel Chief Operating Officer
Lean Six Sigma White Belt

2016

Joined Collins Family & Elder Law Group

2021

Legal Project Management

2022

Lean Six Sigma Yellow Belt

2023
Bio
Melissa is based in the Firm's Charlotte Dilworth office and visits all Firm offices frequently to optimize best practices and team building. 
Melissa serves as an ambassador to all locations and works closely with the Firm Owner to provide overall direction for all departments and functions.  Her goal is to optimize continued growth and profitability, and importantly, to continue to build the best collaborative culture throughout the firm and with firm clients.
Education & Experience
Melissa Hansel grew up in Georgia in a small town south of Atlanta.  Melissa moved to chilly Boston to attend the Massachusetts Institute of Technology (MIT), where she obtained a Bachelor of Science in Management with a concentration in Marketing from the Sloan School of Management and double minors in Spanish and in Applied International Studies.
Melissa has a passion for legal operations worldwide.  Her first foray into law was at the MIT Technology Licensing Office, which merged contract law with patenting inventions to facilitate their commercialization to benefit society.  During her time at the MIT TLO, Melissa performed a review of agreements/amendments, interfacing with outside counsel for patent deadlines and government compliance for federally funded inventions under the Bayh-Dole Act.  Melissa next utilized her contracts experience abroad in the Intellectual Property (IP) Department at Gomez-Acebo y Pombo, a large general practice law firm in Madrid, Spain.  Melissa worked with IP attorneys to ensure accurate translation of legal documents from Spanish to English and created a tiered electronic database of resources related to know-how/trade secret protection, including sample contracts and case law.
Upon her return to the United States, Melissa joined The Broad Institute, a biotechnology nonprofit founded as a collaboration between MIT and Harvard, where she directed systems and administration of their in-house intellectual property department, streamlined legal billing processes and cost control, spearheaded online marketing initiatives to commercialize Broad technologies, and managed a venture mentoring program for start-up companies to convey these technologies into the world of medicine.
Most recently, Melissa comes from a management role in BigLaw at Nelson Mullins Riley & Scarborough, where she administered operations and best practices for the IP Practice Group across several offices, including growth to double in size via several mergers and lateral acquisitions during her 10 years with the firm.  Melissa managed all aspects of Practice Group operations, from human resources to finance to standard operating procedures to marketing and client service.  With her technical background, Melissa also supervised and took an active role in several software upgrades and implementations during her time there.
Melissa enjoys managing the business of law and optimizing efficiency for attorneys and staff via improved systems and processes and by hiring and retaining the best people.  She also loves a good project. Melissa is a Lean Six Sigma Yellow Belt and is also certified in Legal Project Management through the Association of Legal Administrators.
Personal & Professional Activities
Outside of work, Melissa values spending time with family and loves getting outdoors to camp, hike, or enjoy the beach.  She also enjoys pilates and hot yoga.  You may find her sampling the restaurants and coffee shops around Charlotte when she has time between meetings.
Melissa volunteers for Pi Beta Phi literacy philanthropy and the MIT Association of Greek and Independent Living Groups Accreditation Committee. 
She has co-authored industry papers via the IP Owners Association and chaired a subcommittee on document filing metadata, and is an active member of the Association of Legal Administrators (ALA) Charlotte and Boston chapters, where she has served as a Session Manager and Idea Exchange Discussion Leader at ALA national conferences on nine occasions since 2015.
Fun Fact
Melissa is a connoisseur of inspirational quotes, as you will see if you visit her office.  She believes that connected leaders create connected cultures and that hard work pays off.  One of her favorite quote posters is the Aggregation of Marginal Gains: "In the beginning, there is basically no difference between making a choice that is 1% better and 1% worse. (In other words, it won't impact you very much today.) But as time goes on, these small improvements or declines compound and you suddenly find a very big gap between people who make slightly better decisions on a daily basis and those who don't."
Client Testimonials
See What Our Clients Say About Us
"Willing to go the extra mile to help their clients."

Collins Family Law group is a wonderful group of women willing to go the extra mile to help their clients. If you're going through a divorce situation, I would highly recommend you contact them.

- Laura S.

"Ms. Collins is a superb attorney that I would highly recommend."

Ms. Collins is a superb attorney that I would highly recommend. She cares about her clients, is very knowledgeable, has a professional, kind demeanor, and always gives 110%.

- Stephanie E.

"Collins Family Law Group was very helpful through a difficult time."

Candace walked me through the process of divorce and child custody advising me on things that I had not considered. She helped me to protect my children and their best interests.

- Gretchen

"Ms. Collins was very helpful during my custody hearing. It was not about the money for her; instead, it was about doing what was right for my child and me."

She was fair, open, and honest. She informed me of my rights as well as the rights of my ex-husband. She was not out for blood, but just out for what my child and I were entitled to.

- Vanetta J.