Mediation And Collaborative Law
Divorce Mediation Lawyers in North Carolina and South Carolina
Divorce litigation can be extremely difficult and emotionally trying for a family. In addition to the emotional stress involved, divorce proceedings can also cause financial hardship. Thankfully, litigation isn't the only option available to separating couples. If you are on amicable terms with your spouse, mediation and collaborative law may be a viable alternative for you in North Carolina or South Carolina.
Mediation, also known as alternative dispute resolution, is a common method for resolving legal disputes in a peaceful and mutually agreeable manner. Alternative dispute resolution minimizes the risk of friction and animosity between parties, so it is especially beneficial in sensitive and emotional family matters.
At Collins Family & Elder Law Group, we offer effective legal mediation solutions for you and your family. Our law group excels in legal mediations, and we're ready to ease your stress and alleviate the financial burden of lengthy civil litigation matters. If you are involved in a divorce or family law dispute, an experienced divorce mediation attorney from our firm can help your family reach a positive outcome. Call us today to learn more about divorce mediation in NC or SC.
What's the Difference Between Mediation and Collaborative Law?
When considering your legal options, it's common for divorcing couples to ask whether mediation or collaborative law is the favorable choice. Consider this: With collaborative law, both sides have supportive lawyers who are actively involved in their divorce negotiations. On the other hand, mediators facilitate negotiations and work toward legal mediation solutions with the best interests of both parties in mind rather than one specific party.
While many people appreciate and prefer to have the support of a dedicated collaborative law attorney on their side, each case and couple is different. Some couples know exactly what they want in terms of marital assets and child visitation rights, so they may opt for a simple and painless mediation. Whatever the case, those seeking divorce mediation should always consult with one of our divorce lawyers to determine which divorce route is best for you.
Tips for a Successful Divorce Mediation in North Carolina or South Carolina
If you choose to follow the mediation or collaborative law path, there are a number of things you can do to make sure things go smoothly and work out in your favor.
Act respectfully: You will never achieve a more favorable outcome by vilifying your spouse. As you work with him or her and your divorce lawyer, be respectful of them and their wishes.
Minimize the impact of the divorce on your children: Divorce isn't just trying for you — it's also hard on your kids, and don't forget that their hearts are on the line as well. Try to make decisions that are best for them.
Disclose all information required: When you enter into a divorce mediation, you must be willing to disclose all relevant documentation. Withholding important information could cause lengthy and unnecessary delays in the process.
Come with an open mind: Mediation is about compromise, which means that not every solution will be perfect for both sides. As long as you come with an open mind and with the understanding that you'll have to compromise on some things, your mediation will be successful.
Is Mediation or Collaborative Law Right for My Family?
Mediation and collaborative law can be a cost-effective solution for nearly every type of family law dispute, including matters of:
Child custody
Child support
Spousal support
Court order enforcement
Modification of Court Orders
Fathers' rights
Why Is Divorce Mediation Preferred in North and South Carolina?
Mediation and collaborative law provide benefits that include but aren't limited to:
Less time spent in court
Fewer expenses due to the lack of court fees
Parties can choose their own mediator
Parties can listen to one another's concerns
Informal, non-adversarial, and confidential environment
Parties can suggest or agree upon creative decisions for their unique family dynamic
Each party can communicate their wishes, emotions, and desires directly rather through a third-party lawyer in a courtroom
Each party can make their own decisions, allowing them to establish control over their legal matters rather than leaving them to the discretion of the courts
You can resolve family law disputes in an amicable manner through mediation or collaborative law. Many clients have been able to move forward with a positive outlook thanks to these methods of dispute resolution. By taking a less adversarial approach, you can maintain a positive relationship with the other party going forward and move on more quickly to the next chapter in your life.

Solve Your Issues With a Mediation Attorney
Mediation is not about creating more problems — it's about helping families come to a satisfying legal mediation solution. At Collins Family & Elder Law, we do not judge or point fingers. Instead, we offer the neutral legal advice you need to make an amicable decision with your former spouse.
If you can reach an agreement through family mediation and collaborative law, we can help you create a legally binding statement. With a skilled mediation and collaborative lawyer in NC or SC, we can make sure you are involved in the decision-making process, and you'll walk away with an agreement that is mutually agreeable.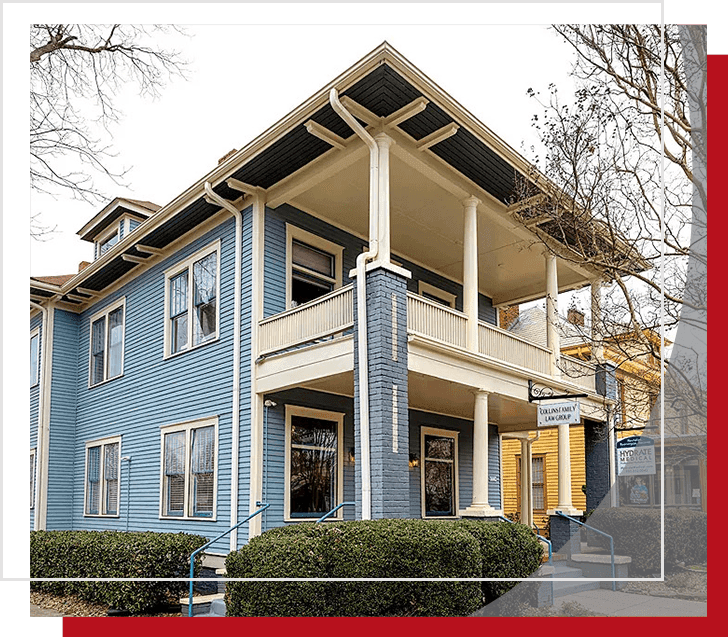 Stay In The Know
Collins Family & Elder Law Group's Blog
We always provide current legal information, updates, and stories discussing issues affecting our community.