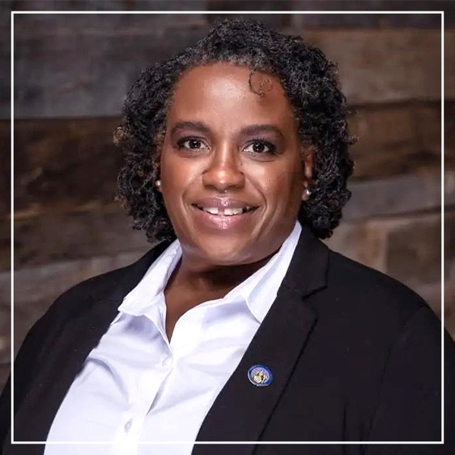 Nicole D. Smith Paralegal
Joined Collins Family & Elder Law Group

2021
Bio
Nicole originally began working with Collins Family & Elder Law Group in 2021 as a Paralegal based in the Firm's Dilworth office in Charlotte, North Carolina. She supports Sarah R. Sykes, Alexa Litt, and provides backup support to other legal teams as needed. Her goal as a paralegal is to provide the support needed by both her supervising attorney and clients to obtain the best possible outcome.
Education & Experience
Nicole was born and raised in Southern California and now calls North Carolina her home. She graduated from Fayetteville State University with a Bachelor's degree in Criminal Justice.
Nicole began her legal career 29 years ago and has experience in many different areas of law, including product liability, juvenile justice, personal injury, medical malpractice, social security, criminal defense, and estate planning. She began focusing solely on family law over 20 years ago. Nicole became a Paralegal Certified by the North Carolina State Bar in 2006.
Memberships:
North Carolina Notary
Paralegal Division, Family Law Section, North Carolina Bar Association
Personal & Professional Activities
Nicole enjoys spending all her time away from the office with her husband attending concerts, musicals, plays, and sporting events.
Personal Philosophy
I believe it is important for one to stop and breathe amid turmoil and to remember that you can fall, but you can also rise. I strive daily to remind clients who are experiencing life-altering, emotional and stressful situations of this belief by lending a compassionate ear with understanding, and assist clients with reclaiming their self-control and navigating through this process.
Client Testimonials
See What Our Clients Say About Us
"Willing to go the extra mile to help their clients."

Collins Family Law group is a wonderful group of women willing to go the extra mile to help their clients. If you're going through a divorce situation, I would highly recommend you contact them.

- Laura S.

"Ms. Collins is a superb attorney that I would highly recommend."

Ms. Collins is a superb attorney that I would highly recommend. She cares about her clients, is very knowledgeable, has a professional, kind demeanor, and always gives 110%.

- Stephanie E.

"Collins Family Law Group was very helpful through a difficult time."

Candace walked me through the process of divorce and child custody advising me on things that I had not considered. She helped me to protect my children and their best interests.

- Gretchen

"Ms. Collins was very helpful during my custody hearing. It was not about the money for her; instead, it was about doing what was right for my child and me."

She was fair, open, and honest. She informed me of my rights as well as the rights of my ex-husband. She was not out for blood, but just out for what my child and I were entitled to.

- Vanetta J.